Starting a Death Korps of Kreig Army
I've decided to start a new Imperial Guard army. After two years of
Palladians
, it's time for something a bit new. Let me talk you through what I decided to do, and how.
I really like the Death Korps models; always have done. I think it was reading a
post on Zzzz's blog
about the new platoon deals from Forgeworld that got me excited - my Palladians have reached a logical point to finish, so I'd decided on my new army.
Fluff Creation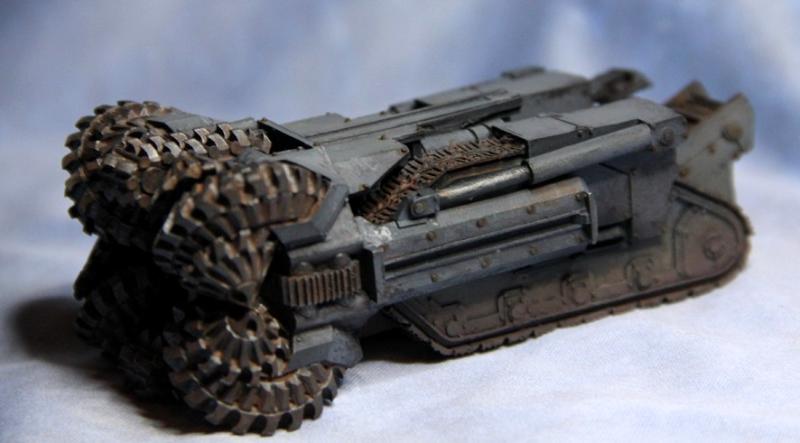 Hades Breaching Drill - a big part of my 'Sapping
Platoon' idea. Pic from Dakka Dakka.
Regular readers will know about my passion for fluff, so they may be surprised by my efforts to
reduce
the amount of fluff for this army. The reason is, fun though all the Palladian fluff was, this is just supposed to be a nice quick army that's going to look great on the table.
I can use the vanilla DKoK fluff to give me any background information I need, leaving me to focus on the models themselves and a little bit on the unit and its characters.
For that I turned to Do You Have a Flag's famous
Fluff Creation Post
for some structure. Using the plan there, I came up with:
Core Concept: A small, elite platoon-sized force of pioneers and miners, based on sap and mining warfare of the First World War.
Purpose and Goal: These are a regular part of a generic Death Korps regiment - well-equipped and trained, but new to the Death Korps 'ethos' and trying to get used to the fact that now they're all supposed to be 'unafraid of death'.
Personality and Approach: Using a force of miners and sappers (in Hades Breaching Drills), they smash the enemy defences and move in teams of Grenadiers, under cover of heavy weapons.
Aesthetics: In keeping with the DKoK fluff, the army is going to have a strong Germanic theme.
Models and Modelling Inspiration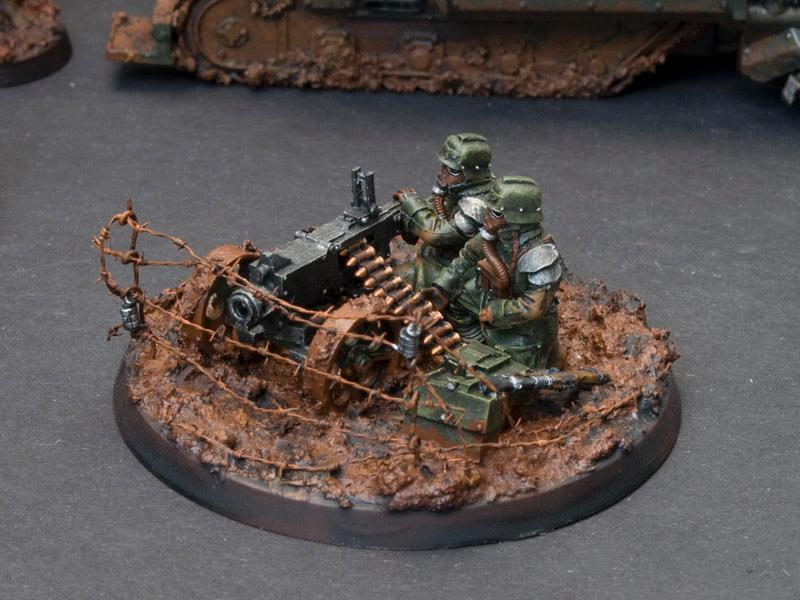 Wow! That mud is incredible - check out the thread here
Of course, the big thing with any Forgeworld models is the cost. That's why I've decided to keep it to 750 - 1,000 pts for now, with a view to doing 500 pt games. I want to use all Grenadiers, partly to keep costs down and partly in keeping with my elite infantry theme. It will also be something quite different from the Palladian human wave tactics. (This may involve playing with the army list - perhaps using 4th Edition doctrines to take Grenadiers as Troops choices, pending agreement from my opponents).
There will be no tanks - partly to again limit the costs, but also to be a bit different. I also don't really like painting tanks.
To purchase these chaps I went Ebay hunting. I managed to get an Engineer Squad, two Grenadier Squads and a Mortar Team. Each one was up to £5 cheaper than the FW website price. I also got the Command Squad direct from FW. This wasn't on Ebay - but I just had to have one!
I wanted the bases to really be something special. I did a Google trawl and found some really inspirational pictures on
this thread
. In particular the mud was perfect, so I found the tutorial and stocked up on supplies:
The Command Squad, fresh out the box from Forgeworld.
Modelling sand, wood glue and wood chip at the top (for making the mud). My local shop did me a deal when I cleaned them out of OO Gauge barbed wire, and I also found some Water Effects stuff there which was snapped up.
And there we are! A momentous day, the start of a new army. I'll be working on a few of the models in the next few weeks and once I'm happy with the style I'll do a tutorial post as well.
Thanks for reading,
Ed