Laser Destroyer Conversion
One of the Flakwagens that got
past the drawing board
UPDATE: See the painted version here
Hi all! As promised at the end of my last post, here's an update on my latest project - a Laser Destroyer! This is not intended to be an everyday part of my army, instead it's just an idea which struck me and I decided to try and model it up. The seeds were first sown playing the excellent
Eastern Front
mod for Company of Heroes. I often play as the Luftwaffe faction, and their reward unit is the
Nashorn
Tank Destroyer bearing the dreaded 'eighty-eight' FlaK gun. I love this gun, on the game and in history. In the game, it's a basic necessity to stop waves of T-34s and KV-1s overunning you. Its long range, enormous power and freakish accuracy make it a truly game-dominating artillery piece.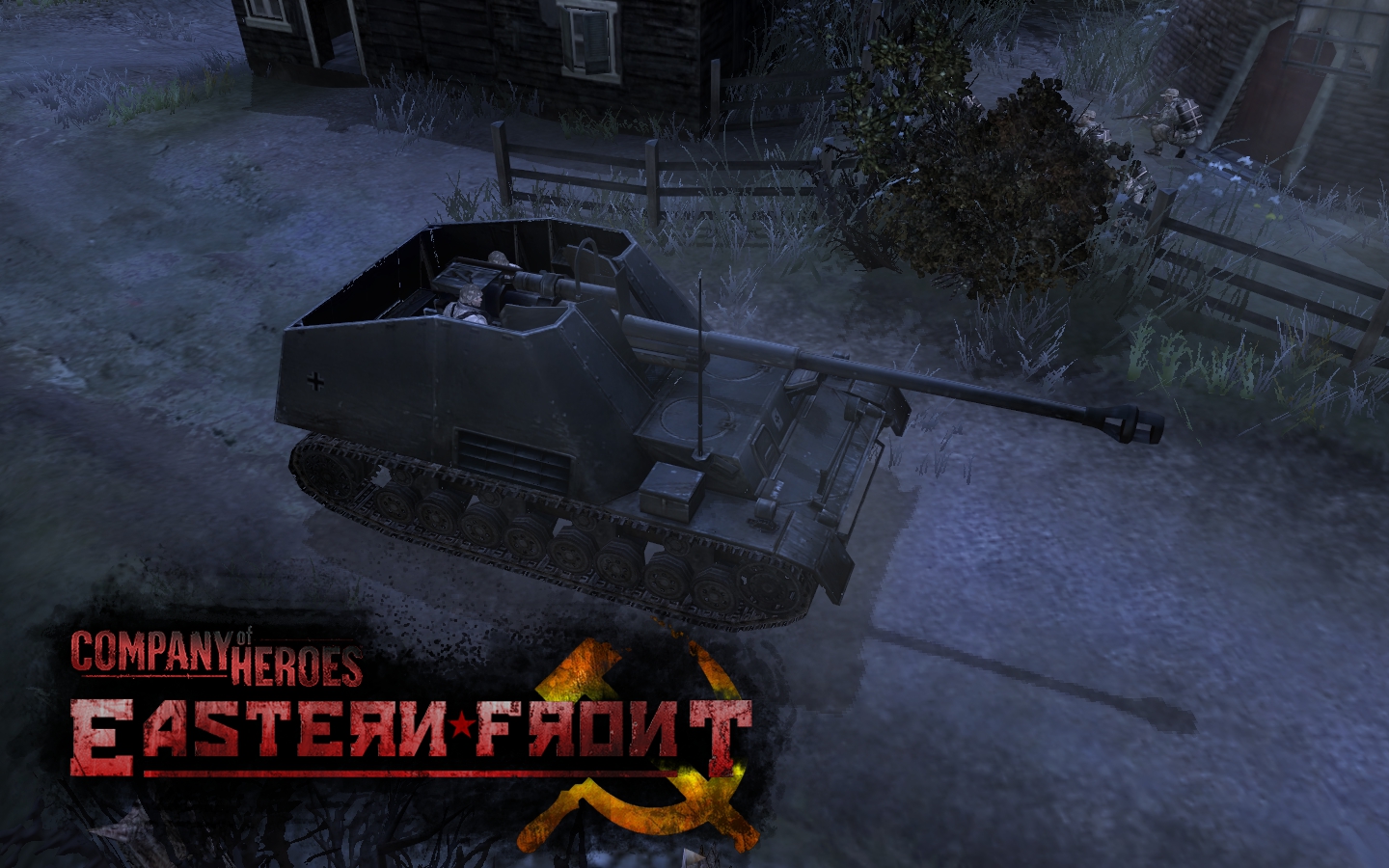 The Nashorn on the CoH EF mod
(piccy from the CoH Wiki)
Recently I finished an
excellent book
by Terry Gander on the 88. As well as covering the famous FlaK 36 AA version everybody knows, it had a section on variants of the
Flakwagen
- a series of proposed designs which basically took 88s and put them on tank chassis, making them mobile. (As opposed to making them part of an armoured casemate, like the
Jagdpanther
, these really are just a set of tracks with a gun balanced on top, little to no armour) Really, the only feasible version of this was the
Nashorn
, but there were other designs like the one pictured, which featured a traversable turret (unlike the
Nashorn
) and deployable side platforms for the crew. Why am I telling you all this? Well, this was the picture I had in my head when I bought a Basilisk and thought, I can make a 40K
Flakwagen
.
I like the idea of powerful, long-ranged guns that are weak and underpowered up close - and good for 40K as it gives the enemy a bit of a chance with Deep Strikers and fast troops if I ever use it in a game. I decided to use a Basilisk as a base, so I had things like the weapon mounts, dampers, gun itself and a metal grill platform to start with. I wanted a low-set gun, without a shield - a real 'rear line' weapon. I'll talk you through the pics.
The publicity shot
Side on view - you can see the big gap I had to plug with Green Stuff sandbags and matchsticks.
Incidentally, I bought a huge bag of matchsticks from a craft shop
and they've lasted me ages. Very cheap and very useful.
The crew area. You can see the FW artillery trail at the top which the gun turns on.
Close up of sandbags, wooden beams, and the gun itself.
Liquid GS is perfect for sealing little gaps when kitbashing.
The upside down Earthshaker. There's still some ugly glue lines that I'll probably paint as rust.
The whole thing again. The hardest thing when scratch building is making the 'balance' of the whole
thing look just right, not too far forward or back.
The back has a movable platform which folds down ...
... like that! It's not actually hinged or attached, so I can take it off.
The whole gun is mounted on an ordinary black base, which pivots
on this penny. Agh! I superglued it Queen's head down! The shame!
The whole thing.
The hardest part was building up the gun to have all the sighting arrangements, wheels
and levers that it lost, and generally bulking it out without making it over-the-top.
Real-world reference photos are absolutely essential - I used some books on artillery
but to be honest a Google search of 'breech block assembly' will give you all the info you need.
Late into the night I added this etch piece - you won't see the gun like this but it
helps maintain the illusion a bit when the gun isn't on.
My dilemma with this gun was recorded in the last post. Am I being too beardy, making all sorts of big guns with which to smash my
patient opponents
? Using VDR, I've toned it down to be a 10/10/10 vehicle, sporting an ordinary Laser Destroyer, minus the 'Blast' characteristic - basically a R 72", S 10 AP 2 Heavy 1 weapon. Mean, but not too much worse than a lascannon? What are your thoughts on beardiness in this regard? I haven't build it specifically to power game my foes, but I can't deny that it's a formidable weapon (and poor old Headologist - this was originally supposed to have been an all-infantry army).
Anyway, thanks for reading and let me know your thoughts. I have a whole host of projects in the works over the next few weeks, as well as long-overdue updates on others. A list (mainly to remind myself):
Plenty to keep you going, so stay tuned!